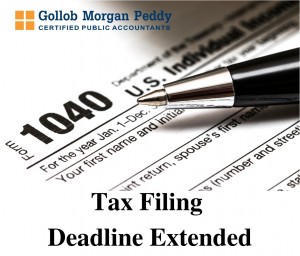 IRS EXTENDS TAX FILING DEADLINE TO JULY 15, 2020
March 21, 2020
Yesterday, the Treasury Department and IRS moved the April 15, 2020 income tax filing deadline for individuals, C-corporations and trusts to July 15, 2020. This announcement aligns the deadline to file income taxes with the deadline to pay taxes due, which was extended earlier this week.
Taxpayers now have until July 15, 2020 to file their income tax returns. For those who need additional time, they will still be able to request an automatic extension. This relief only applies to federal income tax returns due April 15, 2020. It does not apply to any state income tax deadlines or any other type of federal tax filings (such as payroll tax or tax-exempt organizations).
At this time our offices continue to be open and we are busy preparing tax returns for our clients. Any clients who have not sent us their tax information may do so, and we will begin working on it as soon as we can.
As we continue to monitor tax legislation, we will update you on any significant changes and how they might impact you or your business. Please feel free to contact us if you have any questions.
---

Clint is the Business Development Manager for Gollob Morgan Peddy.