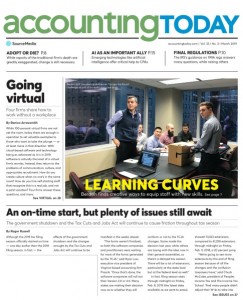 Accounting Today, the premier publication of the certified public accounting industry, has named Gollob Morgan Peddy PC as a "Southwest Regional Leader" in its March 2019 issue.
With an annual revenue increase of more than 17% in 2018, GMP saw the largest percentage of growth among the 13 recognized firms. The group recognized by Accounting Today, included firms in Houston, Dallas, Albuquerque, Austin and Tempe.
"We are very proud of the recognition by Accounting Today as one of the top CPA firms in the Southwest," says GMP Managing Partner Shane Rohrbach. "It affirms our daily effort to provide excellent service to our clients."
Since its start in 1982 GMP has grown to nearly 100 employees on staff, making it one of the largest CPA firms in the East Texas region. Today GMP serves clients not just in the Southwest but also around the world.
In addition to traditional tax and audit services, GMP provides specialty consulting in a number of specific business and personal areas including oil & gas, construction, medical, real estate, valuation, litigation, trust, estate and retail services.
---

Clint is the Business Development Manager for Gollob Morgan Peddy.