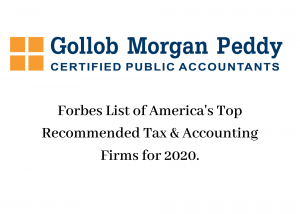 GMP is honored to be chosen by Forbes as one of the "Top Recommended Tax Firms in America" for 2020.
Forbes and Statista surveyed more than 1800 professionals across the country to determine who would make the list.
"GMP exists to serve our clients," says Gollob Morgan Peddy Managing Partner Shane Rohrbach. "We believe this to be recognition of hard work and dedication to providing the best service and most professional experience possible for our clients."
---

Clint is the Business Development Manager for Gollob Morgan Peddy.